10 Ways to Scale your Marketing with Zapier Automation
— Juliet Edjere
We've put together some zaps to help automate your marketing workflow.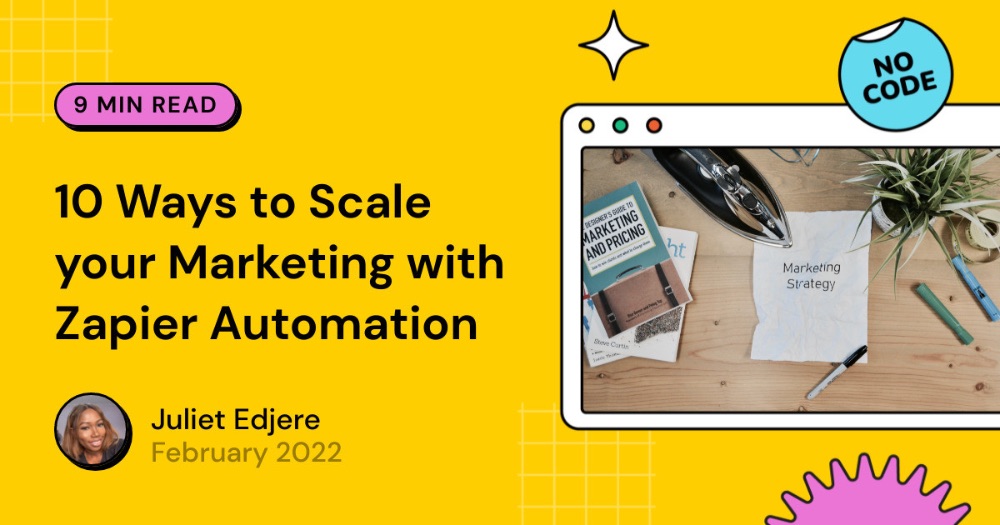 Manually sharing new content to all marketing platforms can be a pain. There are too many social media networks, still, want to maintain a presence on most of them.
One way to resolve this is to copy and paste from platform to platform. A better way is to set up automation to do it for you.
You can reduce manual tasks through automated Zapier workflows called Zaps, like sharing social media, scheduling social media posts, or creating a visual calendar.
Just click on the Use this Zap button, and we'll guide you through customizing it.
1. Automate sharing of new content on Social Media
Putting out great content is only half the marketing journey. The way content is distributed is as important as the content itself.
Zapier allows seamless cross-posting across Facebook Pages, LinkedIn, and Instagram for Business. You could automatically create a new tweet with every post you make on your Facebook Page, automatically send tweets to LinkedIn, tweet videos you post on your YouTube channel or even post new articles on your WordPress site.
Share new tweets:
With Zapier, you can automatically share and publish a wide variety of media and content without much additional work. This way you can repurpose content across different social channels without having to manually post multiple times.
2. Share your ideas with email newsletters
Whether it's promoting news and updates, a new post on the blog, events, recaps, upcoming promotions, or subscriber-exclusive deals, the best way to stay connected to your community is via email marketing.
It can be tasking to manually share all new updates while working on making your newsletter an effective one and ensuring a great reading experience.
Zapier streamlines your email marketing process to be more efficient and personalized to your workflow needs. With Mailchimp, you can send a solo email that focuses on a customer survey or deliver a personalized message to your newsletter audience via email campaigns.
Starting a newsletter is a great way to get regular traffic to your website or blog. Email marketing allows sharing your brand's message, connecting with your customers, and turn leads into subscribers.
3. Manage your online contacts and forms
Marketing automation makes lead management easier.
HubSpot offers a full platform of marketing, sales, customer service, and CRM software to help businesses. This one-stop shop can be linked to Zapier to eliminate the tedious manual work involved in managing your leads, contacts, and forms.
With Zapier, you can use customer behaviours to trigger tasks like creating online spreadsheets, registering clients for events, and tailoring emails, content, offers, and outreach at scale.
Make the most out of daily tasks in marketing, sales, or customer success with these zaps:
4. Get to know your online audience
Who are the people you are targeting? Are you targeting the right online audience? How do you get to them?
Knowing your target audience is pivotal to any marketing strategy. The starting point to find and target your audience is to have a sense of who your audience might be and what they're talking about.
Every content should be created with the right audience in mind. With Google Analytics, you can view and analyze traffic sources, visitor behaviours, time spent on your pages, and more.
Do more with your current data and analytics by using Google Analytics and Zapier:
You can do more with that data, automatically receive regular traffic reports, keep track of new leads, and stay up-to-date on all your analytics goals.
5. Schedule social media posts
Creating social media schedules with posting tools optimizes marketing efforts.
To maintain a strong social presence, you can save time and stay active by scheduling your content in advance across social media.
Social media scheduling tools allow you to design and bulk schedule multiple posts, analyze performance, and publish to social networks at once exactly when you're supposed to post.
Buffer is a tool to manage accounts on social networks, schedule posts to Twitter, Facebook, Instagram, Instagram Stories, Pinterest, and LinkedIn, as well as analyze their results and engage with their community.
With a social media schedule, you can collect content ahead of time and manage your social media marketing.
6. Better engage with customers
Automating repeatable tasks across the customer engagement cycle: social, email, messaging, chat, and text, makes it possible to create structured processes. Customer experience (CX) automation assists with common tasks to improve customer interactions and quality of service.
ActiveCampaign is a customer experience automation (CXA) platform that gives you the email marketing, marketing automation, and CRM tools you need to create incredible customer experiences.
Access pre-built automation with Zapier and ActiveCampaign to manage your customer experience:
This process helps you understand your customers, promoting segmentation and personalisation.
7. Automatically keep track of marketing efforts
When you run multiple marketing efforts, manually keeping track of your customer information and marketing efforts can be tasking.
Keap is a CRM and sales and marketing platform with a client management solution for small businesses. With Keap and Zapier, you can automatically update accounts, and communicate information about appointments and meetings to leads and customers.
As a small business, you can add a level of personalization to your marketing without extra effort.
8. Work with a visual calendar
Save time planning and creating content with social media and email marketing calendars.
Creating a visual picture of your content idea help with planning when, where and which upcoming content will be shared managing campaigns and tracking deadlines.
ContentCal is a social media planning and publishing platform. Use these zaps to get a better perspective of your overall marketing strategy:
With these zaps, you can align your post topics with your content plan and keep track of the content timeline, preventing you from missing your content's mark.
9. Create a bot for marketing, sales, and support
Having customer support takes away the effort of providing answers to simple, straightforward questions.
Marketing efforts influence customer acquisition. You can use Facebook Messenger bots to drive conversations, improve overall engagement and bring users closer to conversion.
ManyChat is a Facebook Messenger chatbot that automates getting and keeping customers happy, so you have more time for everything else.
With these zaps, you can effectively promote your business with time-saving marketing automation to get more customers and support existing customers.
10. Automate customer journeys
Building automated customer journey maps deliver personalized experiences to your contacts.
From the welcome email that makes the first impression, reminder emails and re-engagement emails, there are relevant to leads and customers who need to follow up with your brand.
Autopilot Journeys is visual marketing software for automating customer journeys, to help companies acquire and nurture leads through email, web, SMS, and direct mail.
The right customer journey drives customers through an automated process at the right time, maximizing time and effort.
Key Takeaway
As a marketer, your daily tasks involve handling everything from managing social media pages to sending out emails, working with a diverse team, or even managing accounts for different clients. This can get overwhelming so it helps to know when to automate a task.
Zapier saves the average user $10,000 in value in time saved per year. Try these recommended zaps and explore more options with Zapier 3000+ apps.
This article was originally published on Bannerbear.com on May 31, 2021. Written by: Juliet Edjere
---
ABOUT ME
I'm Juliet 'Hiri' Edjere, a no-code expert focused on design, business development, and building scalable solutions with minimal coding knowledge.
I document all things product stories, MVP validation, and how designs, data, and market trends connect to one another.
In our world where innovation knows no boundaries, and creativity reigns supreme, no-code is a game-changer in today's tech landscape. Whether you're a developer looking to expand your skill set or a beginner curious about creating without writing a single line of code, you will learn from practical examples, and explore the possibilities of no-code technology. Together, we'll navigate the tools, platforms, and strategies – one blog post at a time!