20 No-Code Tools and Apps You Need in 2022
— Juliet Edjere
With so many no-code platforms to choose from out there, we've put together this list of the widely used tools no-code tools we recommend and use so you don't get crippled with choice.
In case you have not noticed, the no-code pace has increased over the years, ushering us into a no-code revolution. Today's no-code tools allow businesses to build and launch custom solutions quickly.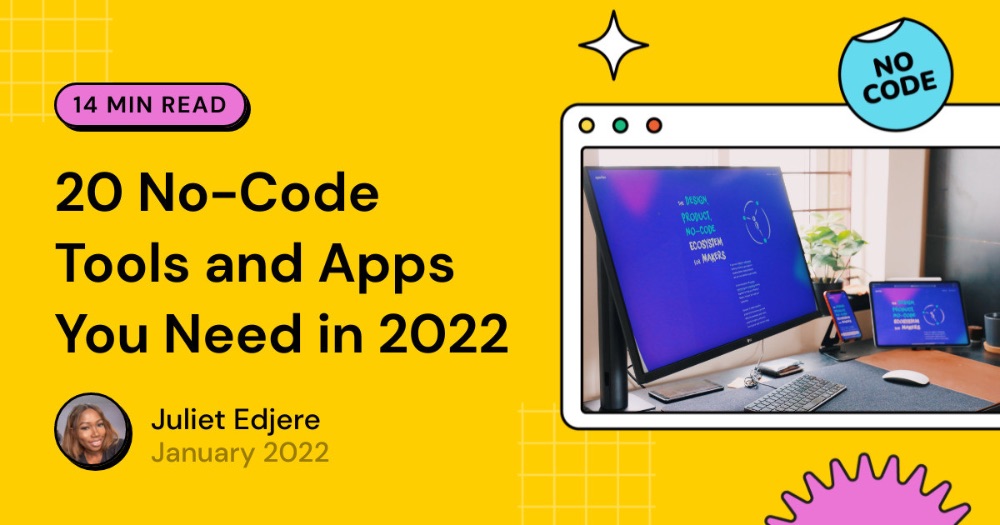 With their growing prominence, non-programmers, developers and business users can build secure and user-friendly custom tools through GUI (Graphic User Interfaces), without the need to write code. This means more companies are likely to turn to no-code tools for their processes and scale a fast-growing business.
With so many no-code platforms to choose from out there, we've put together this list of the widely used tools no-code tools we recommend and use so you don't get overwhelmed with choices.
This list is not limited to website development. No-code development platforms allow building mobile apps, web apps, voice apps, internal tooling, workflow automation and integrations.
Let's get into it!
Automation tools
It's on brand for us to start with no-code automation tools because automation is the heart of what we do at Bannerbear. Bannerbear allows you to auto-generate images and video via API or no-code tools like Zapier, Integromat and Airtable.
With automation, you don't need to take on manual tasks. If you're familiar with the no-code tools on this list, chances are you've used an automation tool to synchronize tasks between them.
1. Zapier
It's no surprise that Zapier made it to the top of this list. It is one of the most used no-code automation tools.
Zapier is an online automation tool that integrates more than 3,000 apps to automate repetitive tasks. Yes, this includes your favourite apps, such as Gmail, Bannerbear, Airtable, Slack, Mailchimp, Google Suite, Twitter, Dropbox, and Shopify.
With Zapier, you save hours of manual and repetitive work by connecting different app platforms together and expediting your workflow.
The learning curve with Zapier is not steep. We have tons of tutorials and tips on how to get the best out of Zapier.

2. Integromat
Integromat is an alternative to Zapier.
Integromat is a no-code, visual integration platform with over 500 integrations that lets you connect apps and APIs to automate workflows.
Like with Zapier, you can integrate tools, apps, services, and devices without needing to code. Integromat allows you to connect and automate tasks between tools to save time and maintain efficiency.
With Integromat, you can make your tools work flawlessly with each other on auto-pilot.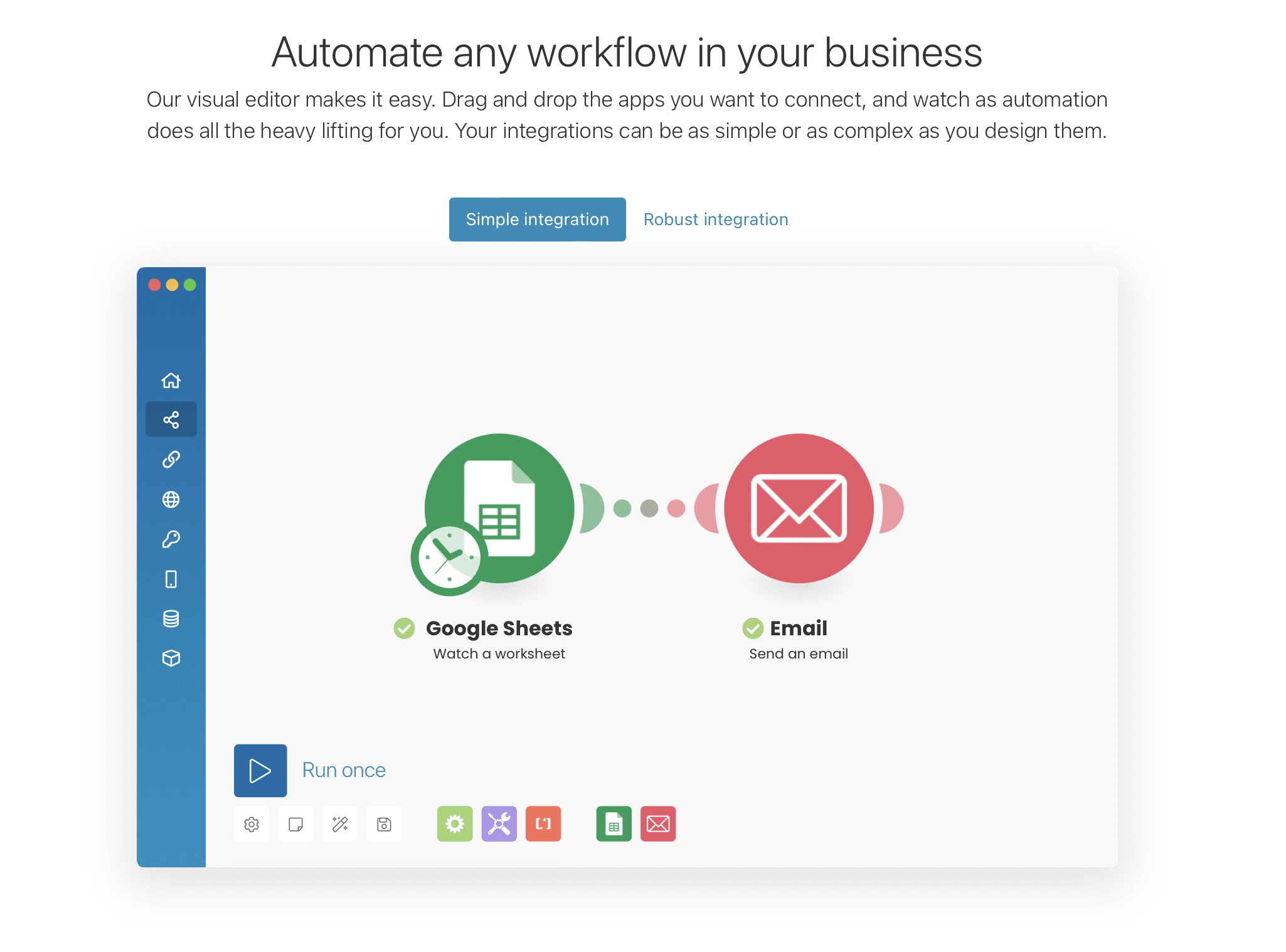 Automate.io is an automation app that ties important data together into an automated process.
With 200+ apps, you can perform specific tasks and automate workflows themselves with minimal manual effort. All you have to do is to put the Automate.io bots to work. You can do almost anything after you set up your trigger and action between apps to refresh at regular intervals.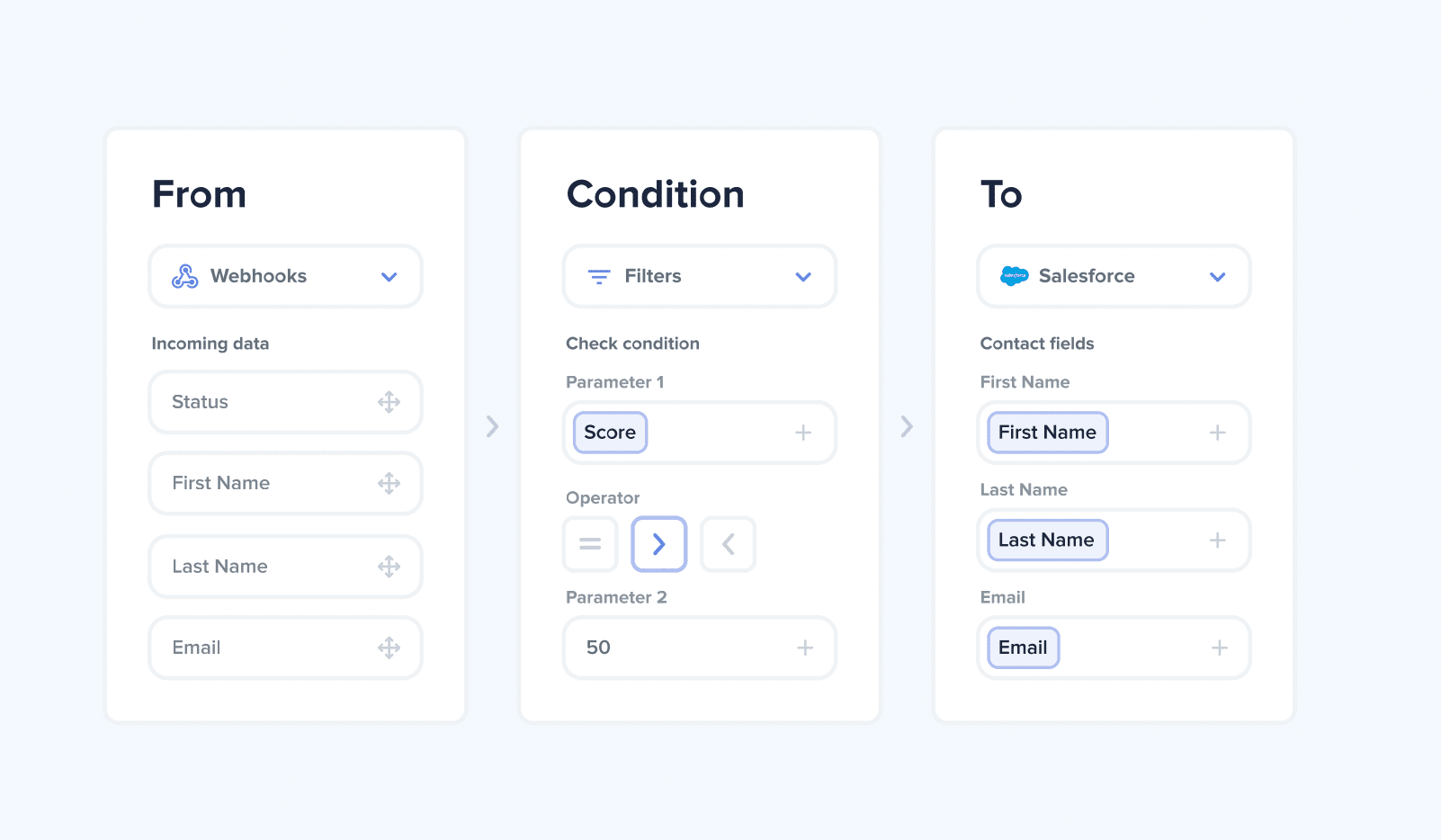 Web Development Tools
Website and app-building used to be so far-fetched when you don't know how to code. But not anymore.
Most no-code web development platforms have an intuitive drag-and-drop user interface to bring your website from idea to launch quickly without writing a single line of code.
4. Webflow
Webflow is a website-building platform that grants you the ability to build, design and launch fully responsive websites by simply dragging and clicking.
With its fully customizable platform, you can turn your imagination into a high-quality working product — from simple landing pages to SaaS websites to e-commerce stores.
Webflow provides a variety of responsive templates to get you started quickly or you can choose to build from scratch to get more control to create whatever website you'd like.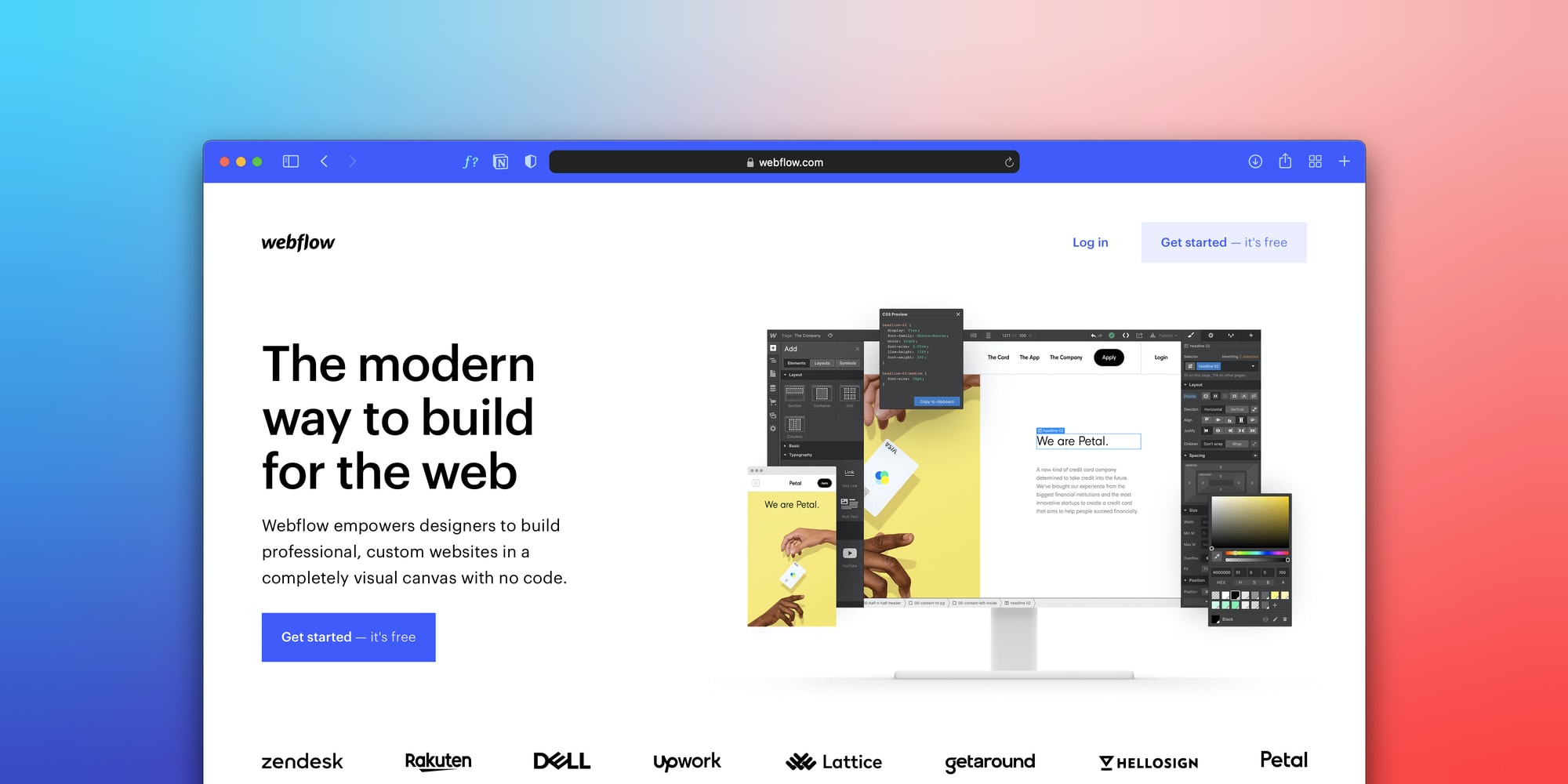 Photo by Team Xperian / Unsplash
5. Bubble
If you need to build a web app with fully functional customization, Bubble.io should be your top pick.
Bubble.io is a powerful, no-code platform that gives you the opportunity to prototype, build, and launch web apps and scale your growth efficiently.
Whether you are an aspiring app developer without any knowledge of HTML or CSS or a seasoned developer, Bubble offers total design freedom to build your own app.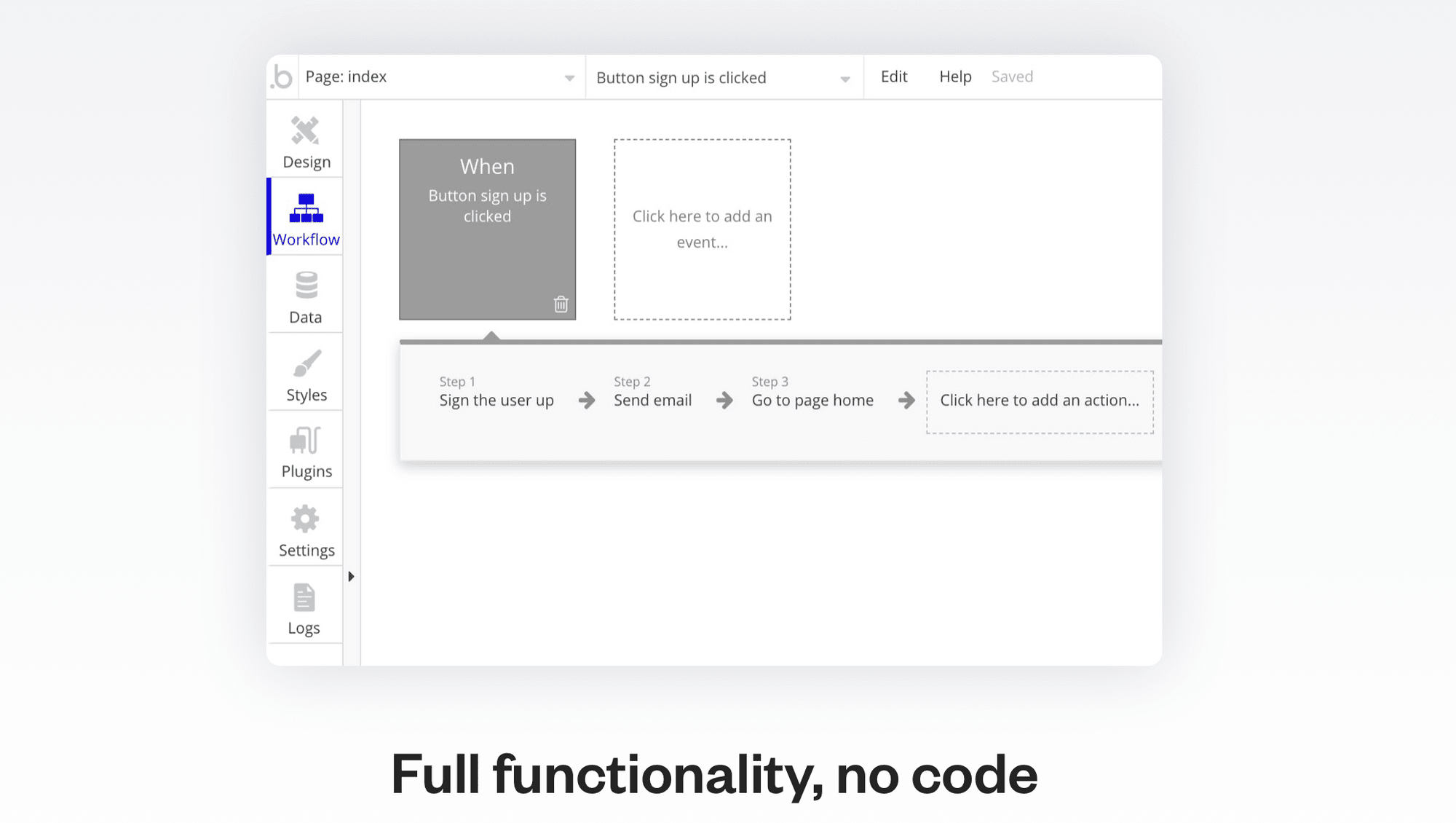 6. Carrd
Carrd is similar to Webflow but for one-page websites. This makes it a perfect no-code tool for landing pages.
Although it's on one page, Carrd gives the flexibility to break the page into sections that can act as individual pages.
The drag-and-drop interface lets you build simple websites in a quick and easier way. You can start by customising its existing templates or start building from scratch for as low as $19-a-year pro plan.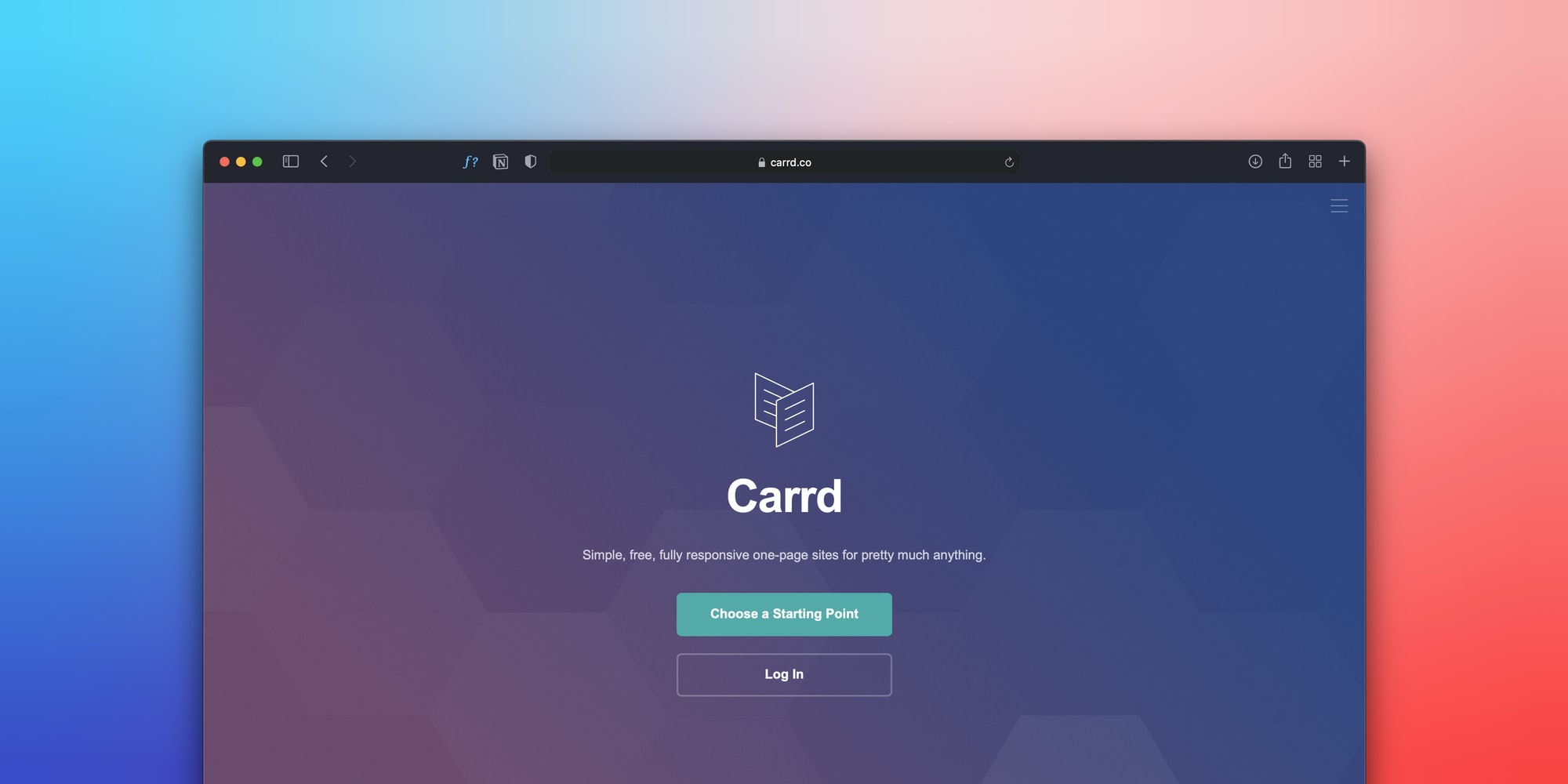 Photo by Team Xperian / Unsplash
7. Squarespace
Another great option for website development is Squarespace. You can build a website using pre-built templates or from scratch.
Like other no-code tools, Squarespace makes web development easy for users to create and modify web pages with its drag-and-drop elements.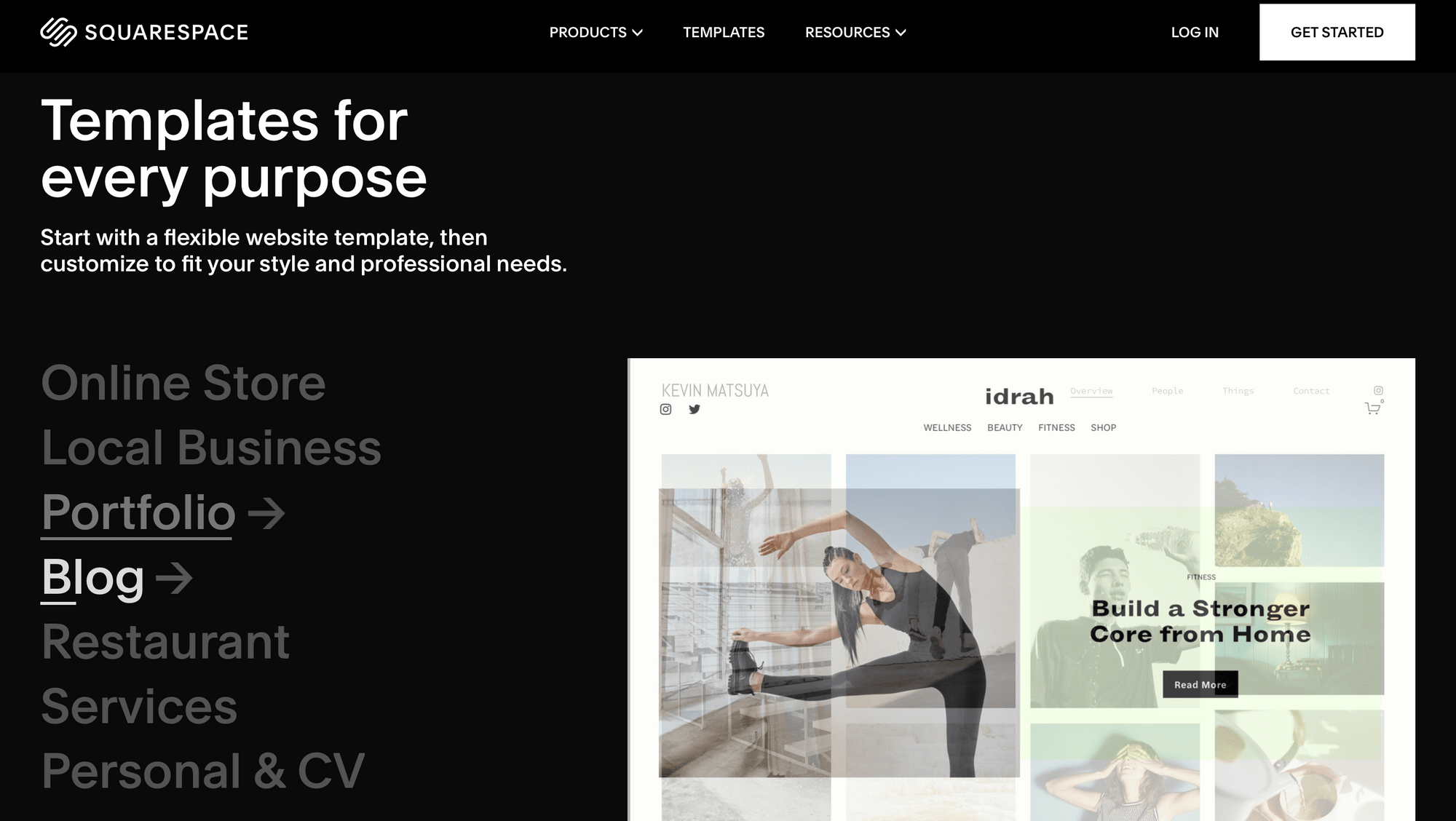 App Building Tools
Building an app is admittedly no easy task. But with the drag-and-drop functionality presented by no-code tools, you can easily design and program beautiful apps with powerful functionality and upload them to the Google Play Store and Apple's App Store.
8. Adalo
Adalo is one of our top choices for building a mobile app. Of course, if you want more functionality with your web app, try Bubble.io instead.
Nonetheless, Adalo stands out as a powerful and flexible no-code platform for building web and mobile apps faster.
Adalo lets you connect a variety of functional components, which can include payments, and notifications, to construct different user flows for your own app building.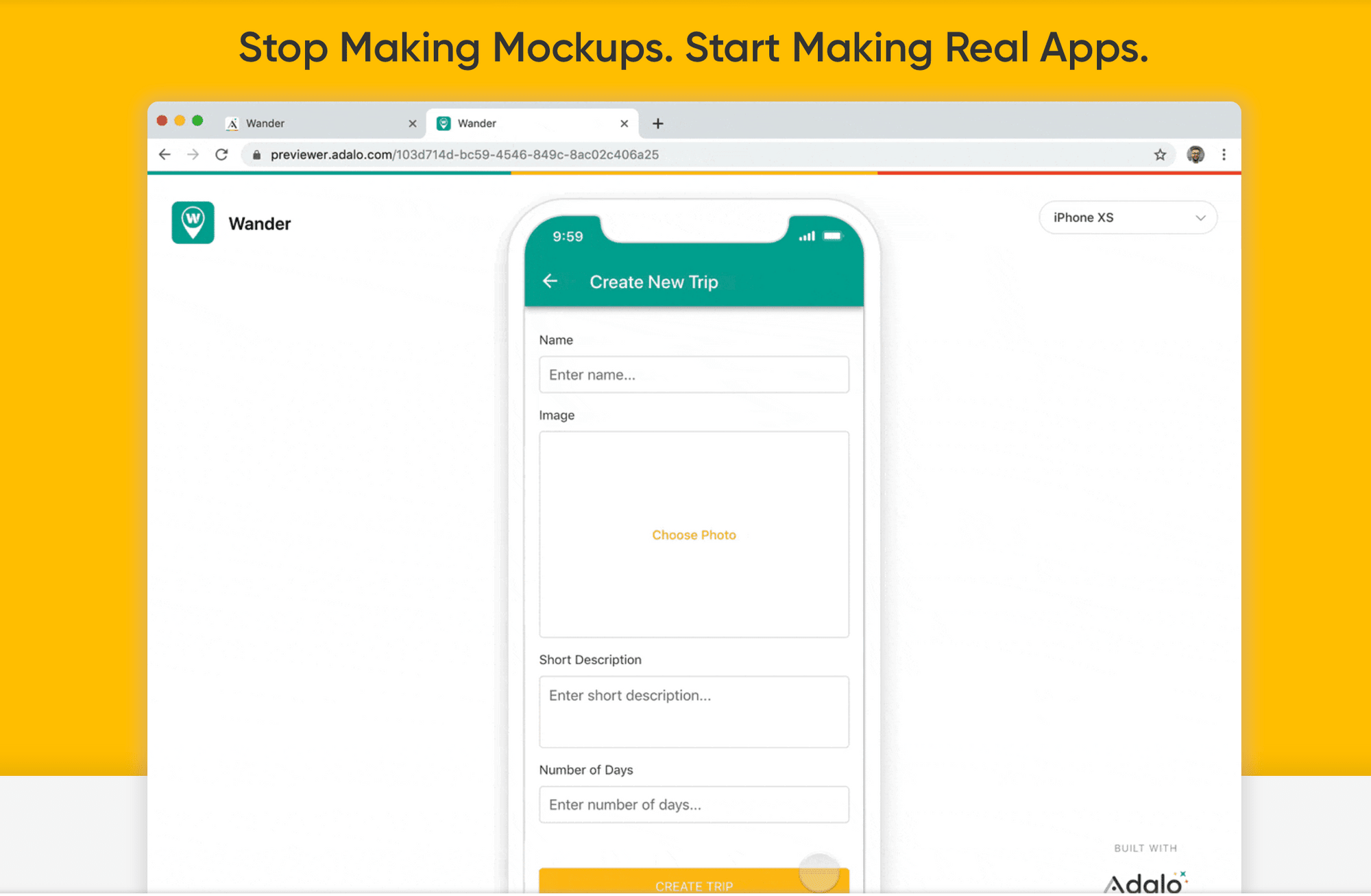 9. Thunkable
If you're looking to create your custom mobile apps without having to start from scratch, start with Thunkable's existing, sample projects.
Thunkable is an app-building tool with an easy-to-use interface. The platform features 50+ design components, easy animations, limitless logic blocks, and open integrations.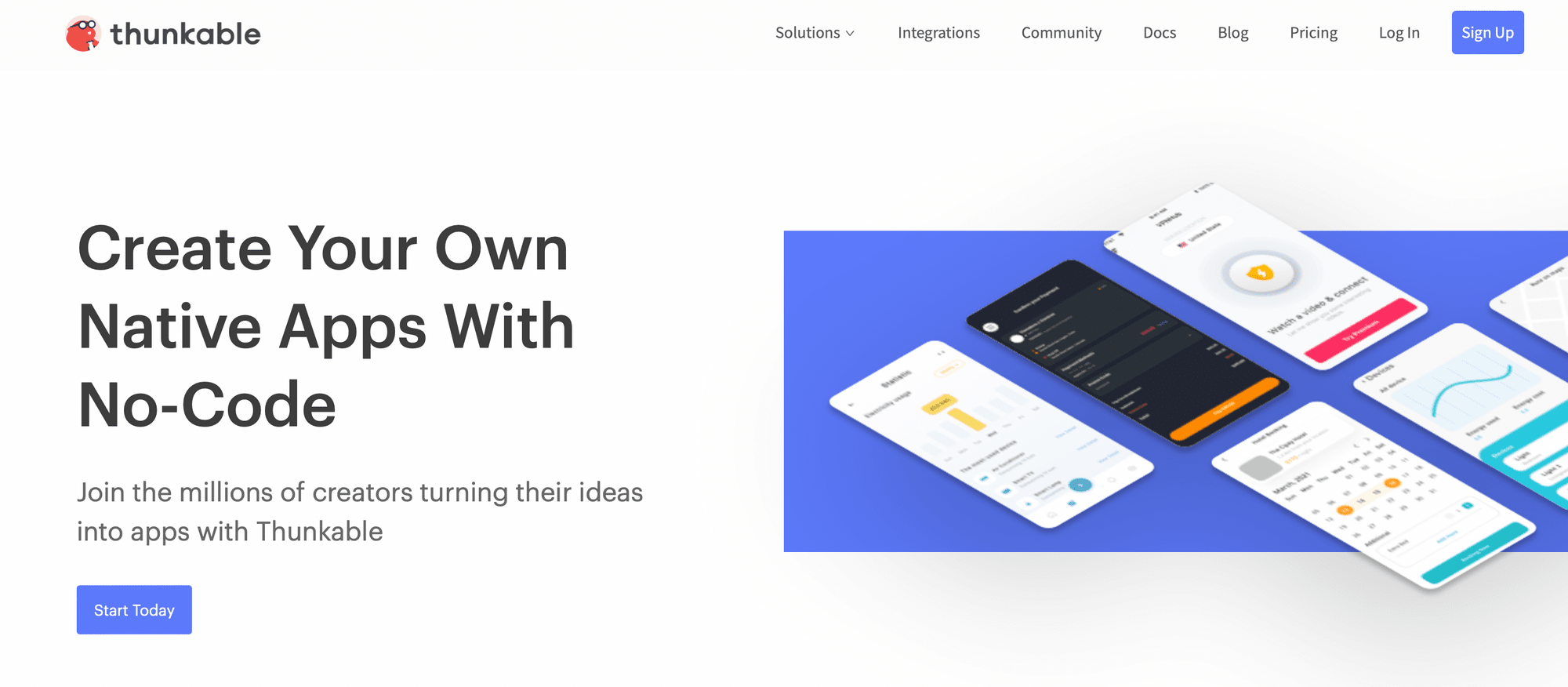 10. Glide
If you're looking for another option for building mobile applications with your existing data, Glide could be exactly what you need.
Glide is a no-code web app & website builder powered by data in your Google Sheets. You can pick a spreadsheet or choose from a library of templates, and customize your app in just a few minutes, without writing a single line of code. You also don't need to have any technical knowledge as Glide reflects only what is in your spreadsheets without a drag-and-drop editor.
You will be able to launch the app on iOS and Android and accept payments through your app. Glide is the perfect no-code tool to launch an app quickly with a low learning curve.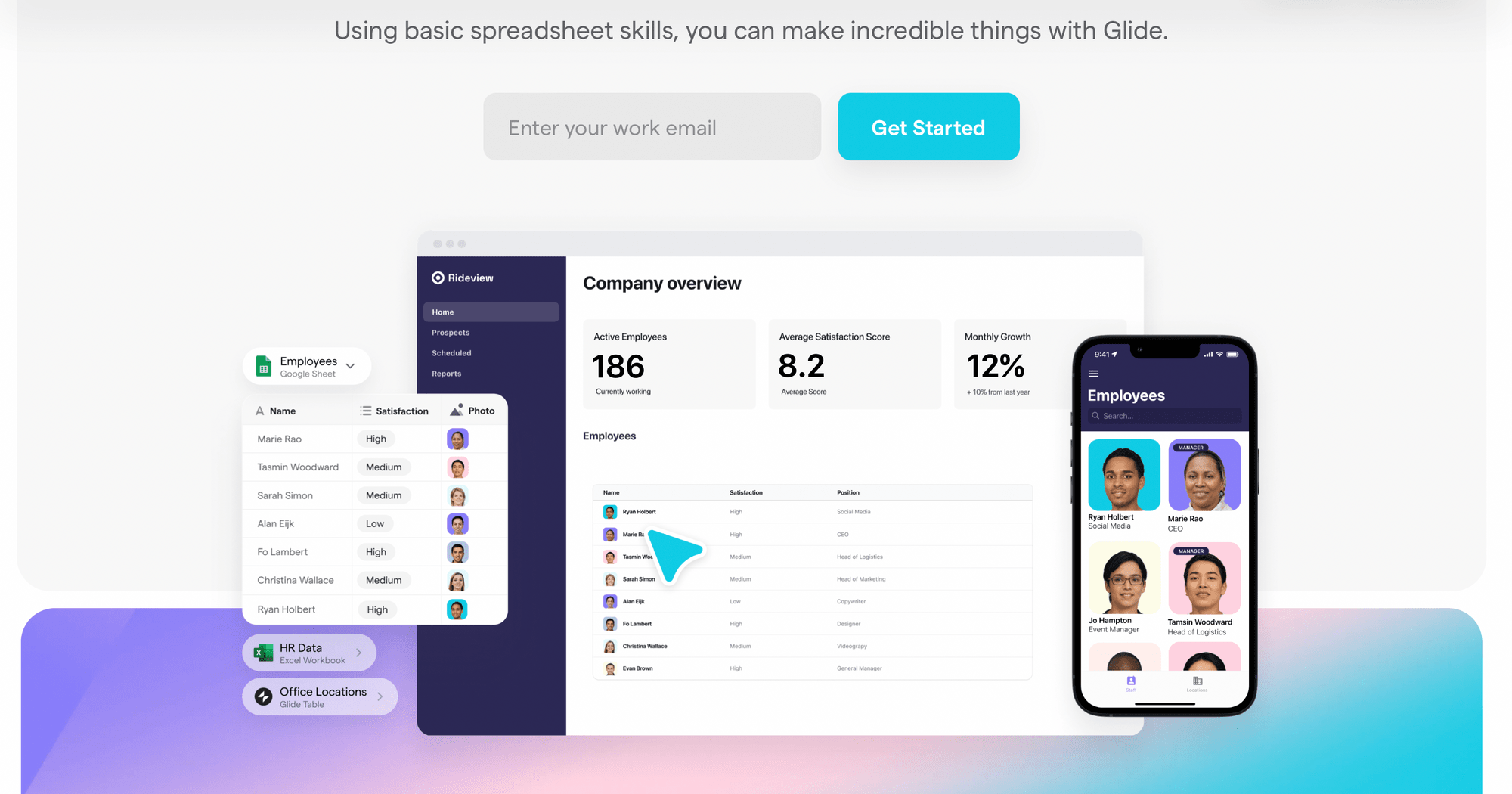 Database and Productivity tools
We've stepped away from non-collaborative excel files to no-code project management tools.
11. Airtable
Airtable is no doubt one of the top sheet-based no-code tools for building collaborative apps.
Airtable is a low-code platform that allows users to customize workflows in a single program. This spreadsheet-database hybrid has the features of a database applied to the functionality of a spreadsheet, with the power of an easy-to-use online platform.
Airtable gives you a lot of freedom to create customized tables, collaborate, organize a calendar, compile a customer list, or organize data in rows and columns.
If you are a new Airtable user, we have tips and tutorials to get you started with Airtable.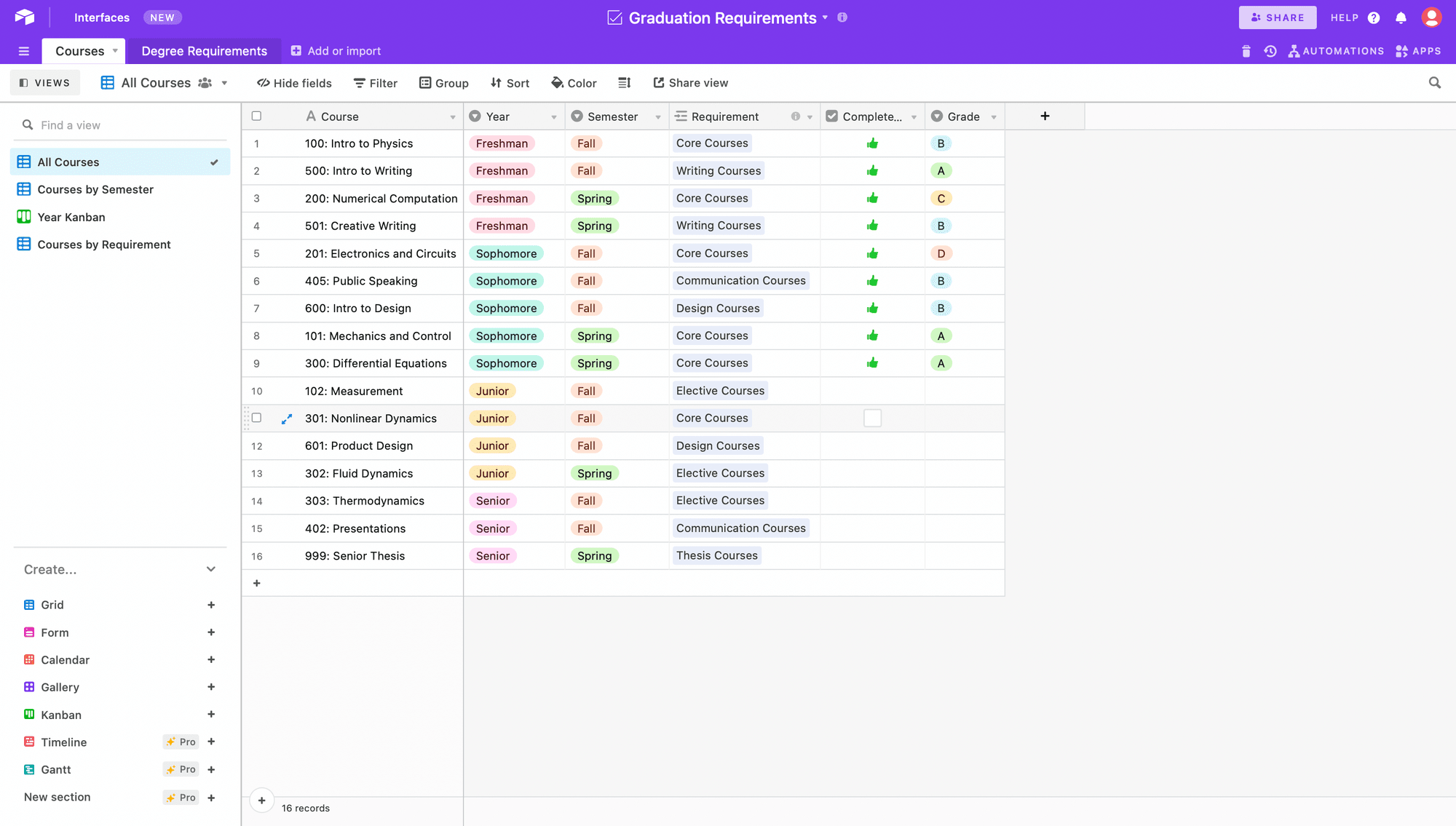 12. Coda
Coda is an all-in-one centralized document organizer that integrates documents, spreadsheets, apps, and databases together in one central place.
With Coda, switching between tabs is a thing of the past. The online collaboration platform helps you unify your workflow, streamline your operations and improve your online workspace.
You won't have a hard time learning how to use Coda if you are familiar with Word documents, which I'm convinced you are. Coda allows you to write as you would on a Word document, with the added functionalities of adding interactive blocks as you go.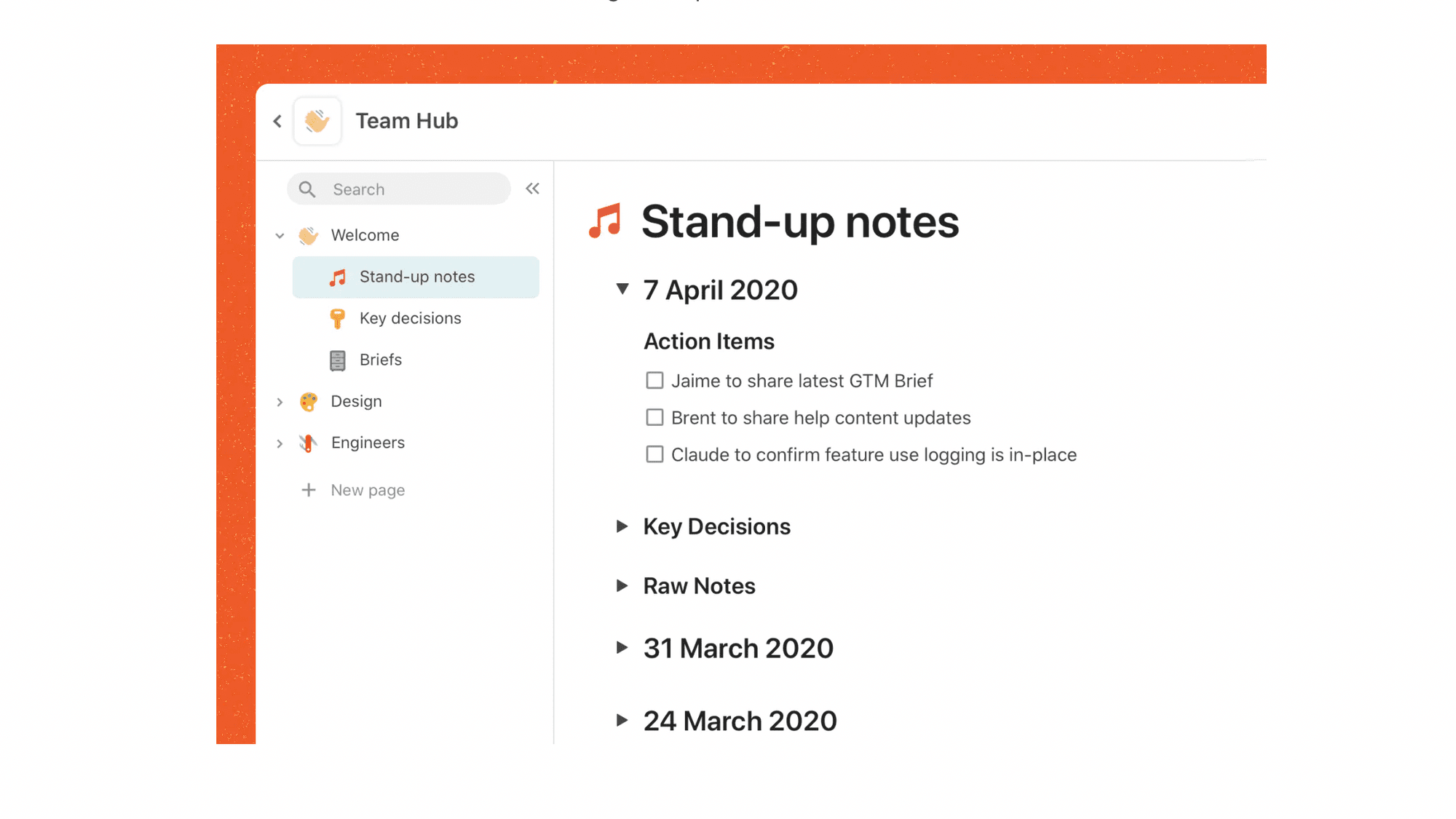 13. Notion
Notion is an all-in-one workplace with robust integration options.
Using Notion is like Google Docs, Airtable and Trello dynamically integrated into one centralized platform.
Notion is a great option if you want a centralised workspace for notes, documents, wikis, and projects.
You can integrate with other platforms like Slack to get your team to work collaboratively in the same space, create tasks, create roadmaps, draft projects, and track processes.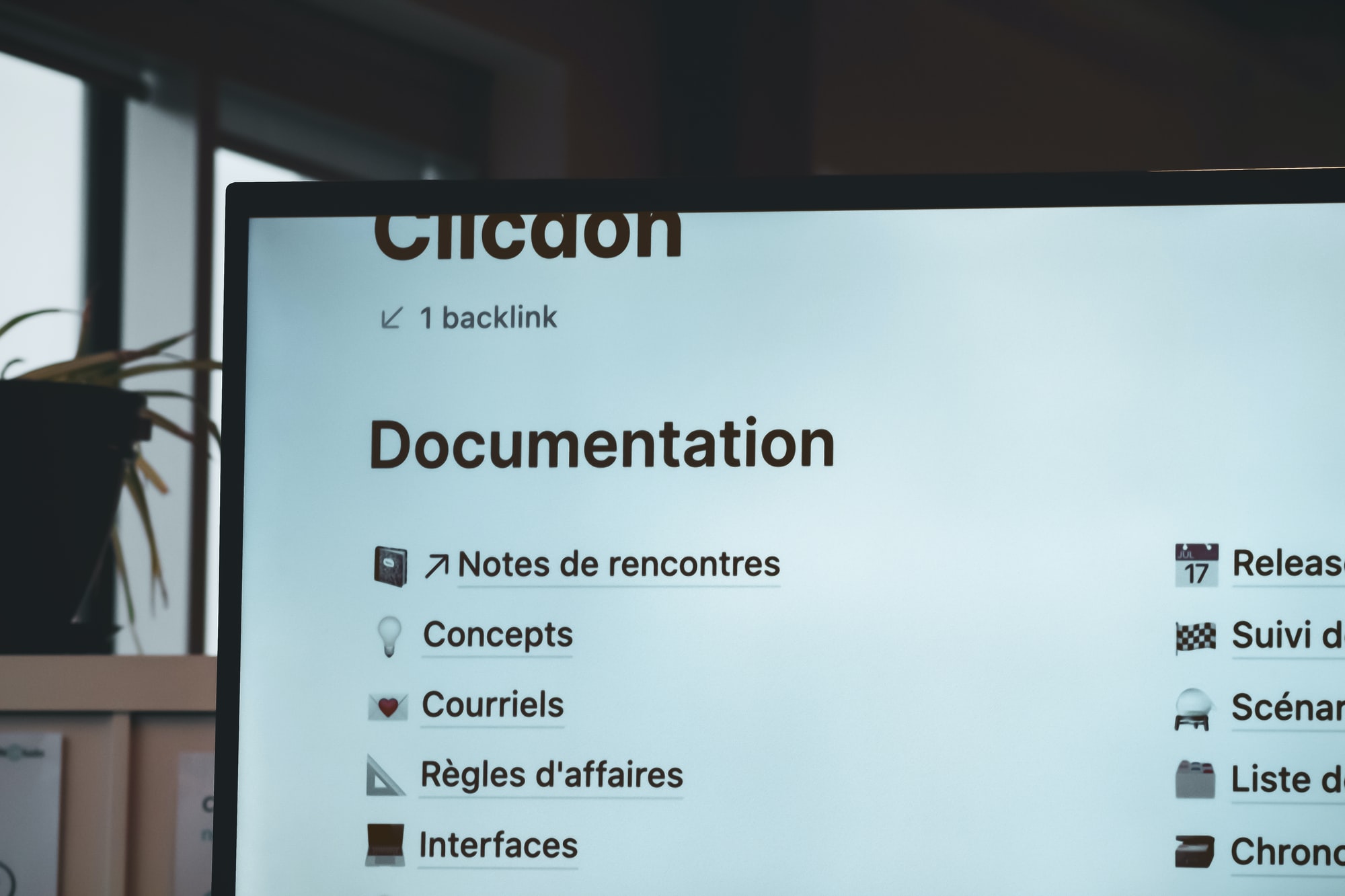 Photo by Sigmund / Unsplash
14. MailChimp
If you need the ideal tool to do all things marketing, Mailchimp should be your go-to no-code tool.
Mailchimp takes the spot as one of the top marketing automation platforms
Not only is MailChimp one of our top picks for email marketing, but it features a landing page builder, pop-ups to capture leads, audience management, a content studio, marketing automation, and reporting and analytics tracking.
The marketing platform centres everything you need to grow, understand, communicate and build a relationship with your audience. You can conduct surveys, launch social media campaigns, and categorize your customer databases. It also features integrations with 250+ apps like Square, Shopify and LiveChat with a robust template library.
Even if you're new to email marketing and no-code tools in general, this all-in-one robust marketing tool has a lean learning curve which makes it easy to learn and use.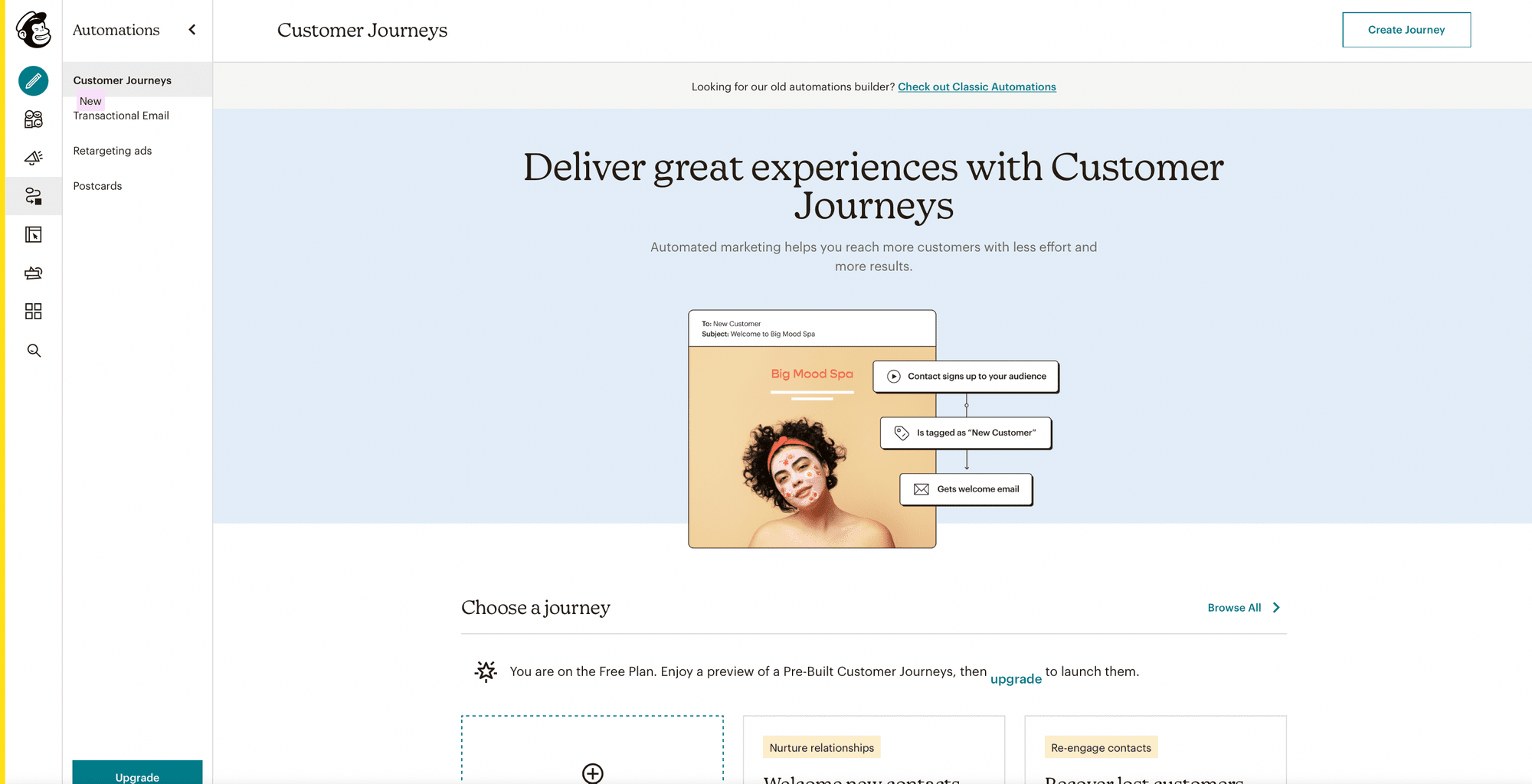 15. ConvertKit
ConvertKit is an email marketing tool popular among creators and bloggers.
It features a landing page and visual automation workflow builder to create an email sequence based on specific triggers, actions and events.
Like MailChimp, you can segment your audience and send messages to specific segments based on their behaviours.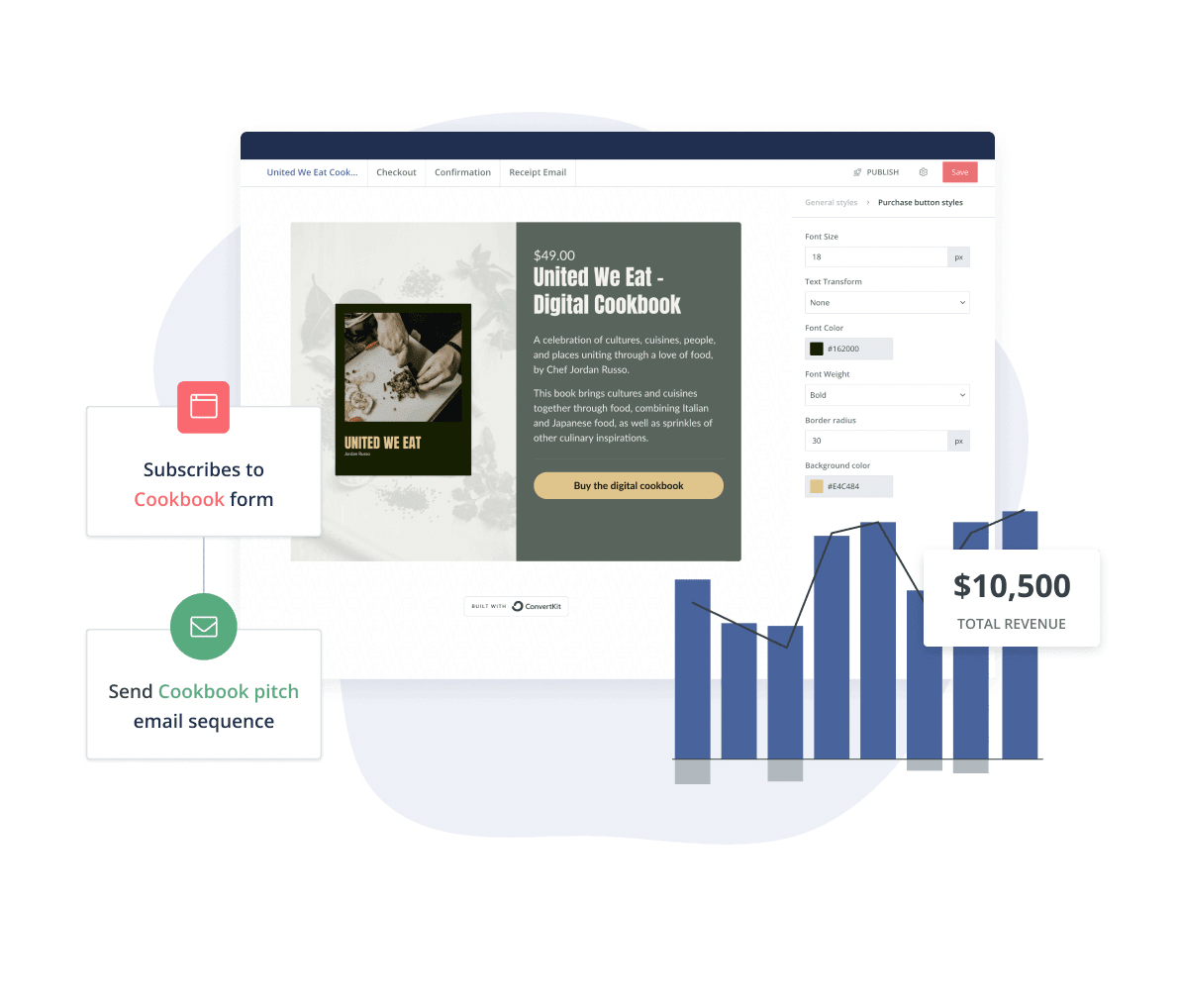 Data Collection tools
No-code tools make data collection easy. You can offer a great user experience to users with automation that are fully customized to fit your brand.
16. Typeform
If you're looking to build submission forms, quizzes, surveys, get feedback, do research, forms, polls, or generate leads, Typeform is a great no-code solution.
Typeform's use cases focus on creating unique, personalized and interactive experiences with question paths and logic jumps that tailor questions to different personas and customers. This results in higher engagement rates on forms.
You can also create polls and forms through videos with the VideoAskintegration. There's nothing stopping you from integrating Typeform into your no-code stack.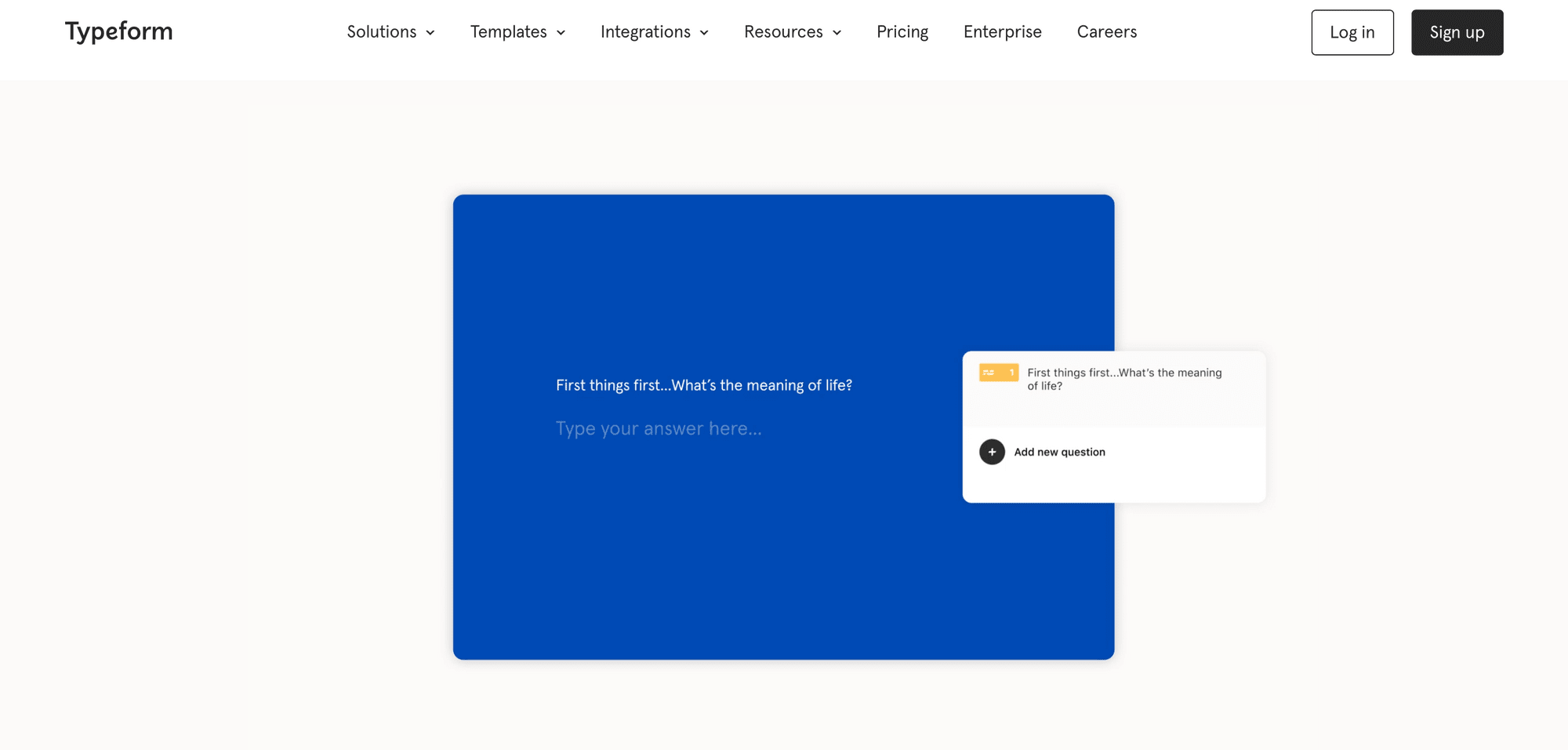 17. Tally
Tally is similar to the traditional standard form but with a slick interface. Unlike Typeform which features one question per page, with Tally, you can show as few or as many questions as possible on a page.
If you're looking to combine the possibilities of Google Forms with Typeform, Tally is where it's at.
You can create forms that encourage higher engagement and completion rates than typical survey software. With its conditional logic and integrations, users are able to view questions based on their answers.
18. Formstack
Formstack makes it possible to build high-converting, personalized forms.
Formstack brings all workplace productivity tools together into one, seamless solution. You can quickly build custom forms and surveys, populate the data you collect into custom documents, collect eSignatures and automate workflows—all without code.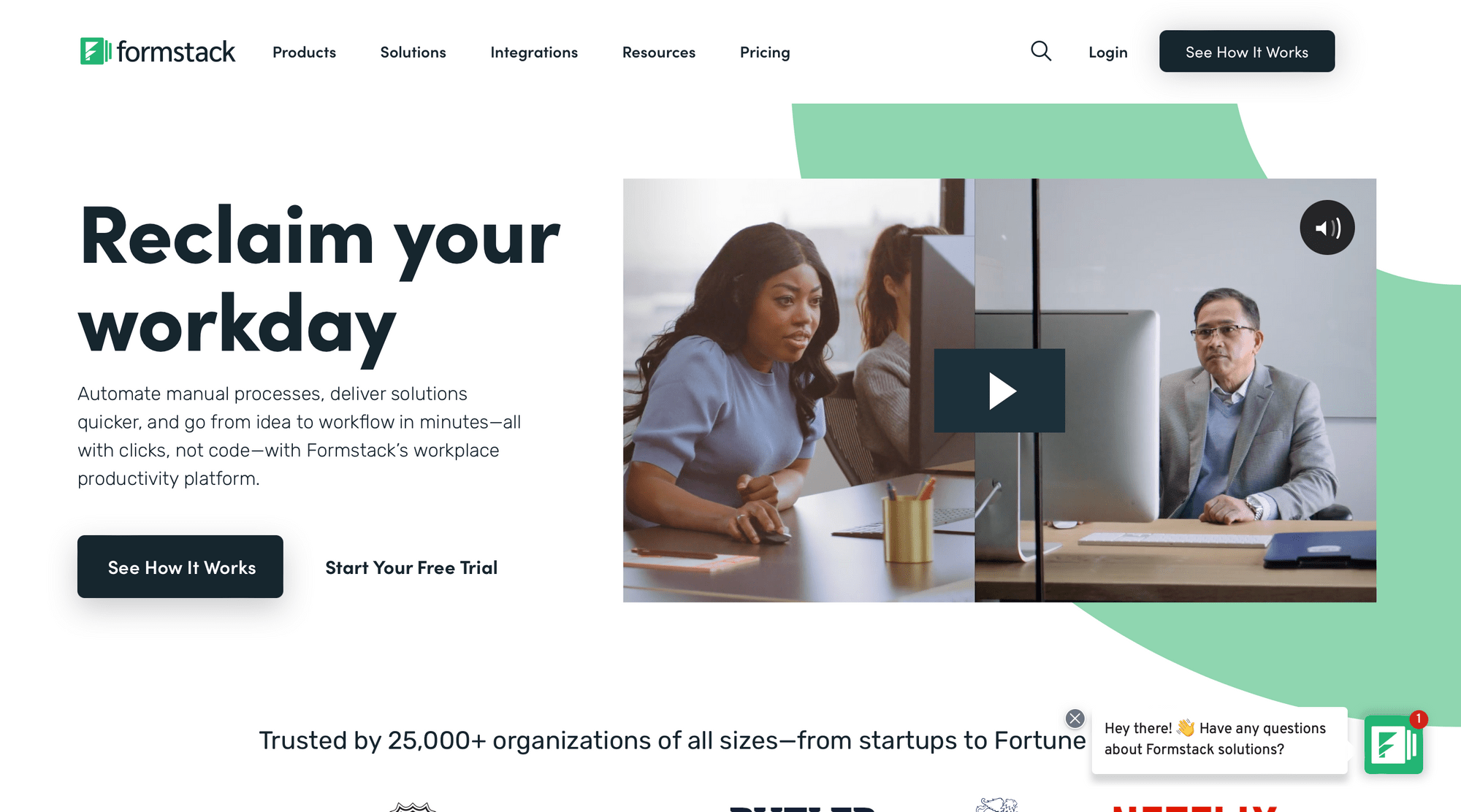 19. Zendesk
Zendesk provides a complete customer service solution that's easy to use and scales with your business.
Zendesk tops the charts as a service-first CRM company that builds software designed to improve customer relationships. It brings together many of the most in-demand features — like ticketing options, live chat, data analysis capabilities and a knowledge base — and offers native add-ons like Chat and Talk.
It's easy to use, has useful features and promotes an intuitive experience for the user.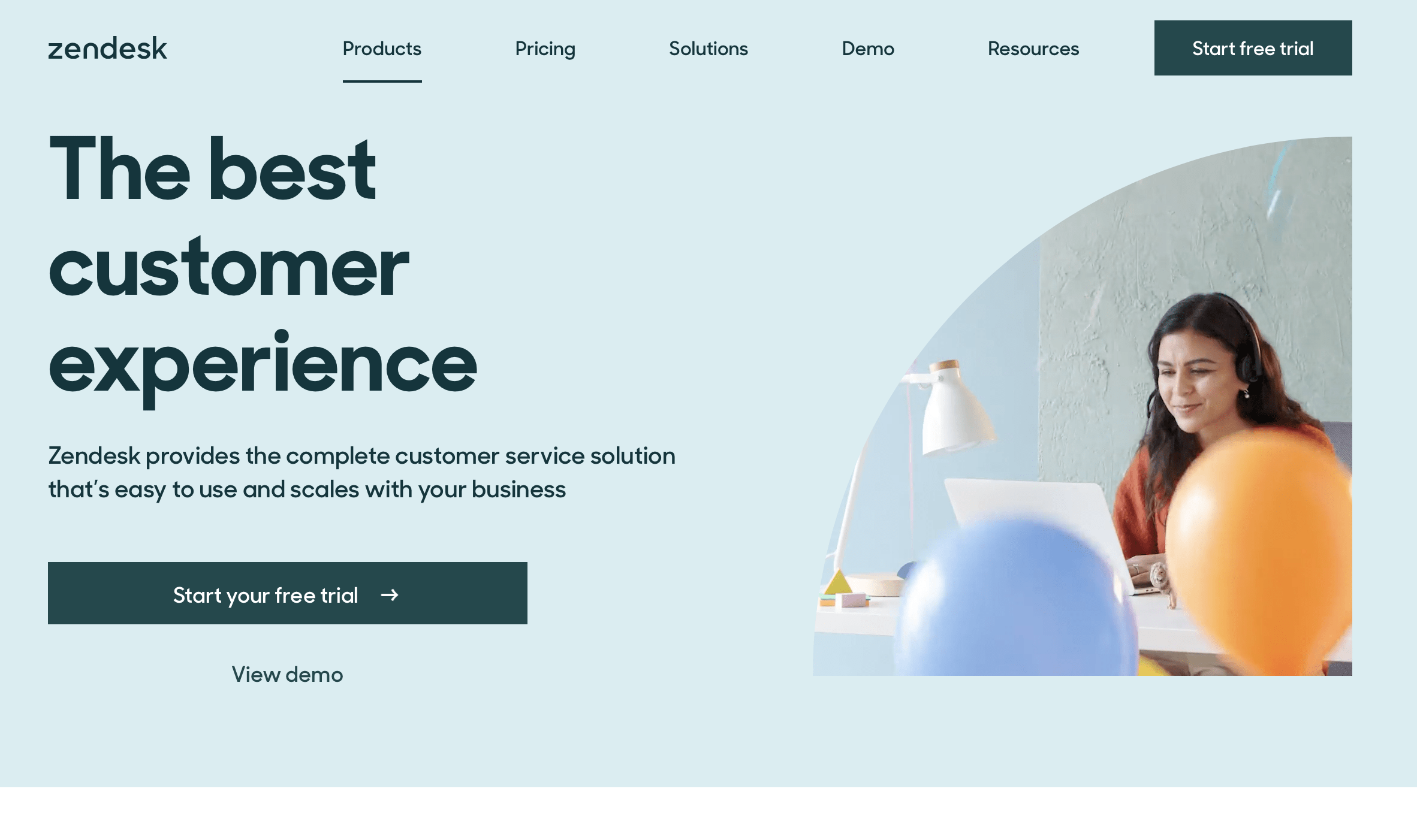 20. Intercom
Intercom is a customer communications platform that shows you who is using your product or website and makes it easy to personally communicate with them with targeted content, behaviour-driven messages, and conversational support.
Businesses can engage and support customers 24/7 through online business messenger, management tools, customer data platforms, and integrations with apps and tools.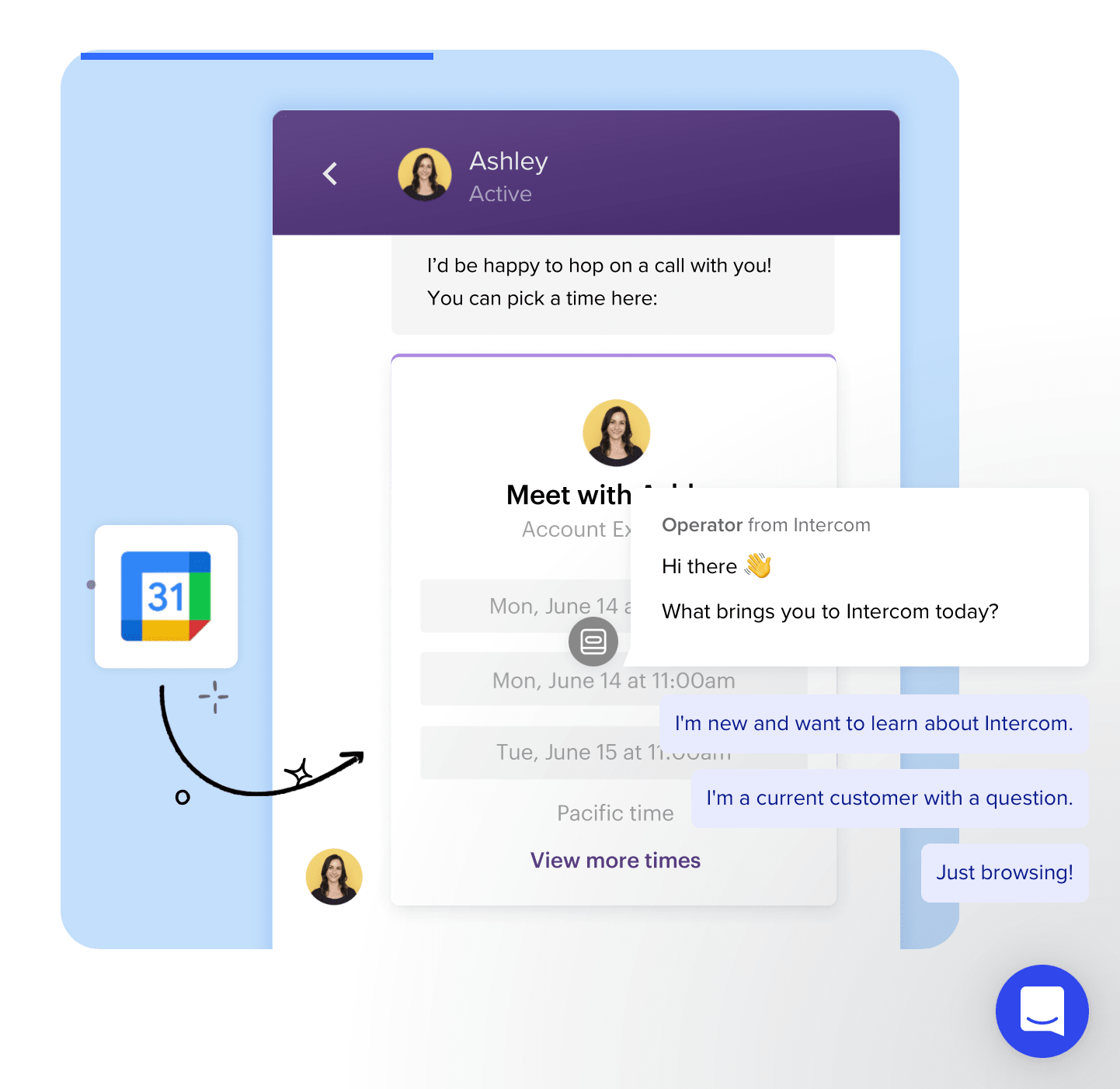 Key Takeaways
No-code software is revolutionizing how we work. Teams can better collaborate to produce workflows without coding or relying on developers.
Though these no-code tools are among the top picks, there are many other options. The chances are if you are a creator on the web, it is likely you have used no-code or low-code tools or come across one.
No-code and Low-code tools are gaining momentum among programmers and non-programmers. More software and tools are being released to help us make ideas come to life quickly.
It is worth noting that some no-code tools can be restrictive due to the lack of flexibility and customization. This is where low-code platforms come in. For complex use cases, you can manipulate the visual components of the no-code tool with code to produce the desired results.
This article was originally published on Bannerbear.com on January 24, 2022. Written by: Juliet Edjere
---
ABOUT ME
I'm Juliet 'Hiri' Edjere, a no-code expert focused on design, business development, and building scalable solutions with minimal coding knowledge.
I document all things product stories, MVP validation, and how designs, data, and market trends connect to one another.
In our world where innovation knows no boundaries, and creativity reigns supreme, no-code is a game-changer in today's tech landscape. Whether you're a developer looking to expand your skill set or a beginner curious about creating without writing a single line of code, you will learn from practical examples, and explore the possibilities of no-code technology. Together, we'll navigate the tools, platforms, and strategies – one blog post at a time!